"Attorney Big Al" is the nickname of the lawyer in charge of a local, independent law office that can be reached directly through the phone number 1-800-HURT-123.
Attorney Big Al in Florida, otherwise known as Alon Barzakay, has been known to be a passionate, hard-working, and philanthropic personal injury attorney in South Florida. Since he graduated law school in 1999, Alon Barzakay built his name on being a no-nonsense trial attorney doing everything he can for his clients. His tenacity stemmed from the courtroom to his initial marketing campaigns on radio and billboards through the promotion of his official phone line 1-800-HURT-123.
Feeling he had reached many listeners, he wanted to unify his brand for his licensees and himself but also reach out to a new audience that was online. He started out establishing a more modern look and feel to his logo design and packaged it for his licensees to utilize together. He created a portal for prospective clients to learn about ways to help victims of accidents and negligence he had learned through his years of practicing through his website with information on a vast variety of personal injury law topics from how to handle a slip and fall accident to what to do if you feel you or a family member may have been a victim of medical malpractice.
Once he had the foundation set in place he ensured all the directory listings for him were up to date with the latest information to ensure anyone online could find him wherever they looked since usually those who call him are those that were just in an accident and wanted someone to help them through the process. Big Al then proceeded to commence a social media marketing and advertising campaign to help reach everyone that didn't catch the radio anymore to help educate, inform, and assist a new demographic of clientele he had not reached before.
By integrating digital marketing methods into his marketing portfolio Attorney Big Al was able to expand his audience and take advantage of his educational and no-nonsense approach to law to help prospective clients by building authority through educating them through social media and website as well as increasing Attorney Big Al's brand awareness to a demographic that does not listen to the radio.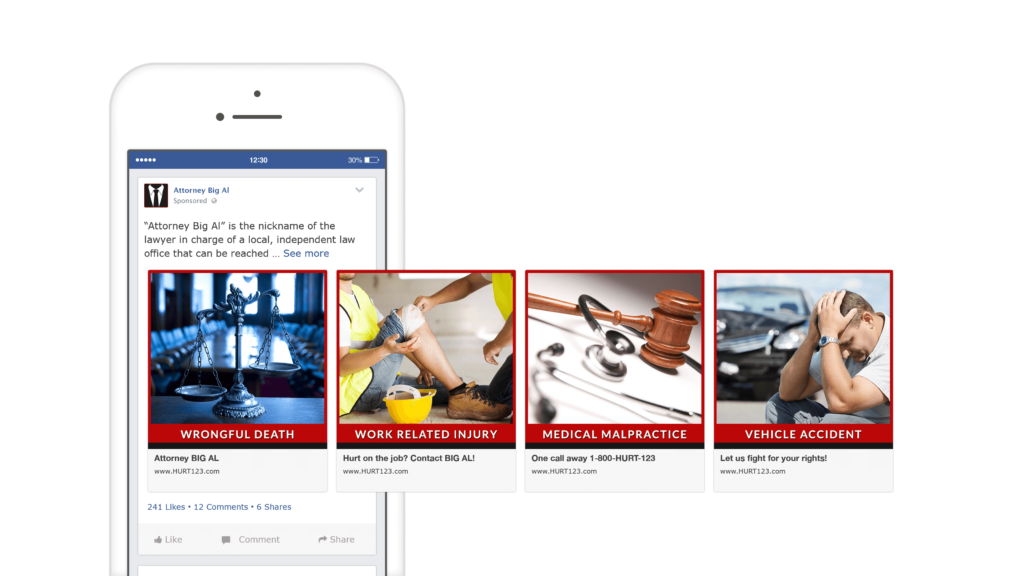 Impressions on Target Keywords On Search Engine Results Grew by over
Attorney Big Al was able to reach that new audience he was able to accomplish a goal he had sought to reach which was completely dominate the search term for "Attorney Big Al" and have a link on every result on the first page and doubling the number of new users to his website.
The team of Sensation Enterprises was excited to learn about the inner facets of personal injury law to help bring forth this vision to light. Through this collaboration, together we were able to help educate and reach new people for Attorney Big Al to help ensure everyone in South Florida and beyond was making sure they could seek justice.